Christmas shopping season is already upon us and we have only just completed Black Friday. Coffee machines are often on the Christmas list and there are many to try out.
For most of us, coffee in the morning to wake us up and then further cups through the day is just what the doctor ordered. That isn't too far from the truth given the latest research findings that coffee drinking has health benefits which outweigh the negatives. If you are after a machine that doesn't leave a bitter taste in the mouth but certainly leaves it's mark, then we have a few to try.
Trends In Coffee Machines
illy Francis Francis Y3.2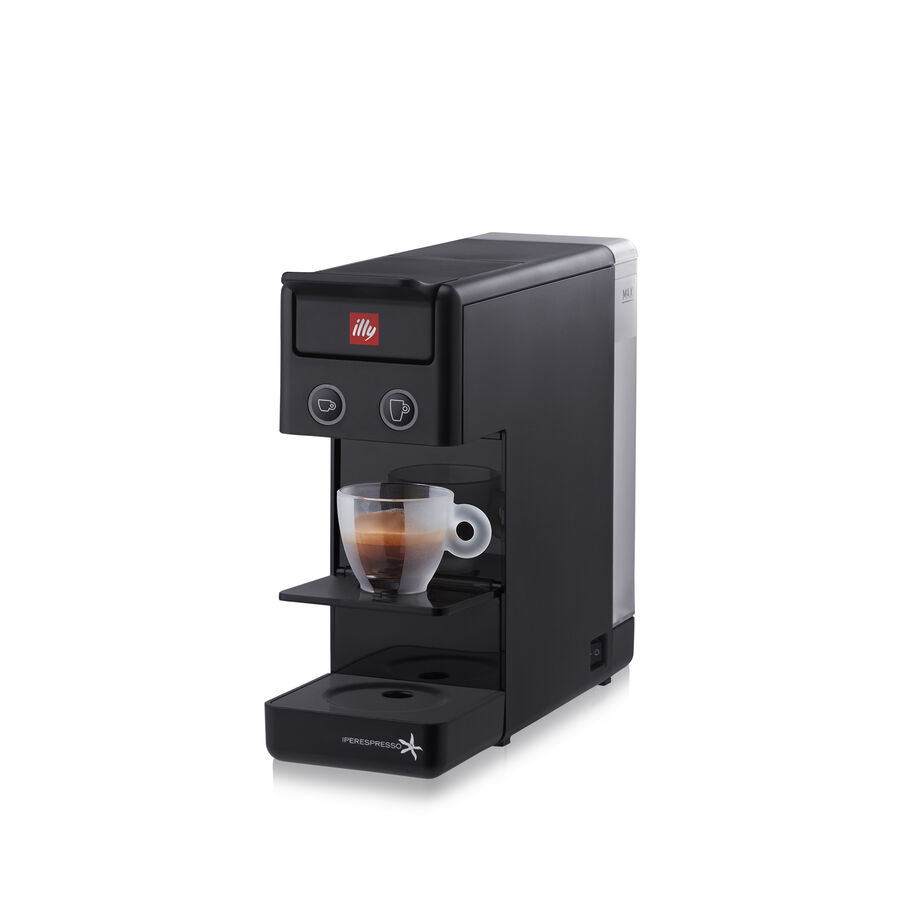 Simple, stylish and actually the newest one in the range. The illy Francis Francis Y3.2 is the latest edition to a well established range. Illy have always been known for great coffee as we explain in the description for Anniversary Edition coffee machine below but this comes first because it is so new!
You can see from its size that it wont fill space up in the kitchen. What they call a minimal footprint for the kitchen work surface. That means it is ideal for the smaller kitchen space.
The device takes the iperEspresso capsules along with the brand new Filtro filter-style long iper coffee capsules. All good coffee machines now have an automatic stop and capsule ejection function. The unit has various temperature settings for a different coffee types and holds 0.75 litres of water an easily washable tank. There is a power save mode which kicks in after 15 minutes of no use. 
We used it to make espresso and Americano coffees. If you want foam, then you need the separate milk frother for the full range of coffee types – from flat white and macchiatos to cappuccino and lattes.
Anniversary Edition illy Francis Francis X.1
Ease of use, convenience and perhaps above all, creates a great cup of coffee. The second one to look at is the Anniversary Edition illy France Francis X.1 and is celebrating an Illy anniversary with this 20th year edition. This machine is the one that has such a retro, steel, coffee shop look to it and comes in a number of colours too.
Illy are the premium Italian coffee brand and with this machine comes the iperEspresso capsules along with the new Filtro filter-style long coffee capsules. We think the coffee they produce is superb in flavour with full roasted notes and a great aroma.
The Illy machine looks ideal in a retro, old-style kitchen which isn't blitzed with loads of chrome steel. We mention that because if you are a style guru, then looks are almost as important.
Nespresso by Sage Creatista
What a lovely gorgeous machine to look at as well as make coffee with. Highly sophisticated and uses an electronic display system to give you the information you need – almost like having your own electronic barista. It's also easy to use and really delivers what you want.
The unit is self-cleaning although it still needs some care and attention – don't be fooled – always check this works properly for pure safety reasons. Other notes:
4 texture levels

5 different milk temperature settings

10 second start-up period
This unit has a fully-automated steam wand to create perfectly textured milk to add to the coffee and it can be set at your own preferred temperature.
De'Longhi Icona Micalite Espresso Coffee Machine
The De'Longhi variant actually looks incredibly stylish and is relatively easier to use than the Illy one above. It has a beautiful black gloss and chrome finish and looks great in a modern kitchen setting.
Ground coffee and ESE pods can be used with this machine. I think ground coffee is best because it allows the true aroma to shine forth especially in the morning at 5.30 a.m. when you need a massive kick just to get the eyes to open properly.
The milk frother produces great lattes with a sumptuous full-on and rich finish. One feature is the 15 bar pressure system which generates a full flavoured coffee.
Products
This page will contain links to affiliate marketing partners. Please read our affiliate disclosure.
(Visited 11 times, 1 visits today)